 HFA Down Payment Assistance Programs and How They Work
Down payment assistance programs are like TV remotes. Most lenders have access to them in their state, but few know how to leverage them to their full extent.
In fact, as many as 70% of all State HFA loan programs have some form of down payment assistance (DPA). Nationally, there are over 2,500 DPA programs offered across 1,300 local, state, and national agencies.
With so many challenges facing today's homebuyers, it only makes sense to try to understand and leverage existing tools to help them save money and purchase a home sooner. Keep reading to learn more about what DPAs are and how they work.
Overcoming Homeownership Hurdles
Most Americans agree that homeownership is one of the best ways to build wealth and increase prosperity.  Even Millennials appear to be warming up to the idea of homeownership. An Ernst & Young survey found that, in the last 2 years, homeownership for Millennials between the ages of 28 and 31 increased from 27% to 47% and homeownership of those aged 32-36 increased from 46% to 57%.
Tight credit standards, lack of inventory, and debt (frequently student debt) are all perceived as obstacles to homeownership but saving for the down payment is mentioned most often.  More than two-thirds of renters (chart below) consider the down payment to be the biggest barrier to owning a home.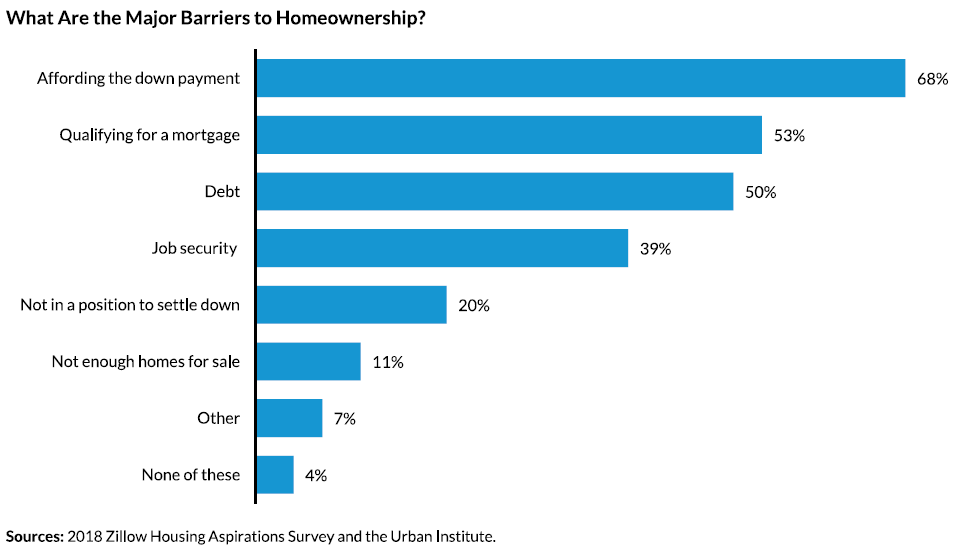 While the challenges of buying a home are real for many, there are also many misconceptions in the market.  Perhaps the most pervasive myth about buying a home among potential borrowers is that they must put down a 20% down payment. In fact, according to an Urban Institute study, 39% of renters believe that a down payment of at least 20 percent is needed to buy a home.  Few potential borrowers realize that products like mortgage insurance can allow them to purchase a home with as little as 3% down, and even fewer are aware that down payment assistance programs are often available.
Helping borrowers overcome the 20% misconception and educating them on all their options like down payment assistance (DPA) programs will not only increase borrower confidence in their decision to purchase a home but also give them the tools they need to purchase a home. For many borrowers, DPA programs are a great way to overcome stagnant wages and rising interest rates to purchase a home.
Down Payment Assistance Programs: What They Are and Who Qualifies
Housing Finance Agencies (HFAs) largely exist to help first-time homebuyers. Many HFAs offer programs that help increase affordability by providing down payment assistance to borrowers through grants, forgivable loans or secondary financing. These programs provide some flexibility for borrowers based on their state's offerings. DPA programs vary greatly but some of the more typical requirements include homebuyer education, income limits, credit score minimums, and first-time homebuyer designation (HUD defines first-time homebuyer as someone who has not owned a home in 3 years).  Often there are primary residence requirements and sales price limits, but don't assume anything; do your research first.
DPAs are particularly handy to know about because on average, borrowers using DPA Programs save more than $17,000 over the life of a loan. This is based on an average home price and includes the down payment savings plus the reduction in the ongoing monthly mortgage payment.
Finding Information on Your State's DPA Programs
Your local and state HFAs have tons of information you can tap into to better equip yourself for conversations with borrowers. They have educational programs to help borrowers prepare for homeownership and specialists who can help you understand the DPA programs thoroughly.
Your best source of information will always be your State HFA.  For more information on state-specific programs, go directly to your state's HFA page to find authorized lenders and resources.
State DPA Offering Examples
Colorado Housing and Finance Authority (CHFA) offers two different down payment / closing cost assistance programs. Learn More.
CHFA's first DPA Program is a Grant. It provides up to 4% of your borrower's first mortgage (Ex: $8k on a $200k loan) and because it's a grant, no repayment is required.*
CHFA's second DPA Program is a second mortgage loan. Homebuyers can borrow up to 5% of their first mortgage (Ex: $10k on a $200k mortgage).  Repayment of such second mortgage loan is deferred until certain events, such as payoff of the first mortgage, or the sale or refinance of the home.*
*Higher interest rates apply
Idaho Housing and Finance Association (Idaho Housing) also offers two different down payment / closing cost assistance programs. Learn More.
Idaho Housing offers a Forgivable Grant. It's available for purchase and rate and term refinances.  It's a 0% interest, 7-year forgivable grant.
Idaho Housing also offers a second mortgage DPA program. It can be used for down payment and closing cost assistance. A homebuyer can borrower up to 3.5% of sales price (Ex: $7k on a $200k mortgage).  The second is repaid over 10 years with low monthly payments. Income limits may apply.
Learning How to Leverage Down Payment Assistance Programs
Down payment assistance programs are widely available and, in many cases, ideal for first-time homebuyers and low-income borrowers. They can help borrowers overcome many of the affordability issues our market is facing today.
The best place to learn about the DPAs available to your borrowers will always be your state's HFA page, but you can also learn more about HFAs on Enact's website.
Helping borrowers understand their options and helping them save money helps them feel more confident in the homebuying process and makes the experience more enjoyable.
Never miss a post by subscribing to the Enact MI Blog!
https://blog.enactmi.com/wp-content/uploads/2021/06/01389.Blog_.Header.Enact_.04.png
361
707
Enact
https://blog.enactmi.com/wp-content/uploads/2022/05/Enact_logo_Reg_0522.png
Enact
2018-12-06 10:00:34
2021-10-20 08:37:49
HFA Down Payment Assistance Programs and How They Work