 Help for FTHBs: Understanding Credit, Credit Scores, and Credit Reports
[This 4-part series features a deep dive into each of Enact's FTHB topics. We have other topics in a previous series that details the benefits of MI, terms and people your borrowers should know, and affordability and budget worksheets. Be sure to check out the Help for FTHBs Hub for these flier resources!]
Your potential first-time homebuyers (FTHBs) may not realize how credit might impact the mortgage application process. They might even have questions on how to read, access, etc. credit scores and reports! That's where we can help you to help your borrowers arm themselves with resources they'll need to be successful in their homebuying journey.
FTHBs should know that when it comes to owning a home or planning for their financial future, obtaining and maintaining good credit is critical. Typically, the higher their credit score, the more likely they are to qualify for a loan at a lower cost, usually in the form of lower interest rates. In any case, there are many sources of information that can help your FTHBs gain more insight into their scores, reports, etc. but be sure to also warn them about scams!
Download the Understanding Credit Sheet to distribute to your potential FTHBs.
Credit Report Resources
Your FTHBs can order their free credit report and should review the information carefully. If they believe a discrepancy is found, they can dispute it with the appropriate Credit Reporting Company. Send them to the following resources for more information:
If your borrowers have attempted to dispute a discrepancy on their credit report and are having issues after working with the Credit Reporting Company, tell them that they can submit a complaint to the Consumer Financial Protection Bureau (CFPB).
These resources are meant to help your customers better understand their credit reports and to handle any errors they might come across.
Obtaining a Free Credit Report
It's very helpful for hopeful FTHBs to get a free credit report. They can use it to better understand how their credit score is calculated and what might impact it. Thus, you'll want to educate your borrowers on the Fair Credit Reporting Act (FCRA). It entitles them to a free credit report every 12 months from each of the three major consumer reporting companies (Equifax, Experian, and TransUnion).
They may order their reports from each of the three nationwide credit reporting companies at the same time or separately and can do so in a couple of ways. Remind them that requesting their credit report will not affect their credit score. Refer to the downloadable pdf for access to those links and information!
Notes and Warnings
Not every source can be trusted… And, not every credit score calculation your borrower may complete on their own may be used for their mortgage application. With this in mind, consider the notes below:
Beware of "Imposter" Websites

There are websites that claim to offer "free credit reports," "free credit scores," or "free credit monitoring". These sites are not associated with the free annual credit report program. In some cases, these "free" reports may come with strings attached or may try to collect your FTHBs' personal information.

Credit Scores May Vary

There are multiple types of credit scores in the market, and 16 different FICO scores alone! The scores your FTHBs may receive on their own may differ from the one you, their lender, ultimately uses to qualify them for a loan. To better understand which score is used for their mortgage application, remind your borrowers to contact you for more accurate information.
Regardless of where you're at in your career, it's vital to a successful homebuying journey to help FTHBs, and all your borrowers, throughout the time they're buying their home. This looks different depending on their individual needs, but one thing remains true… education and resources can help streamline this process and ease the minds of those pursuing the dream of homeownership.
Download our Understanding Credit Sheet below – it's a great resource to share with your borrowers and can help you supplement any of the resources you may already have.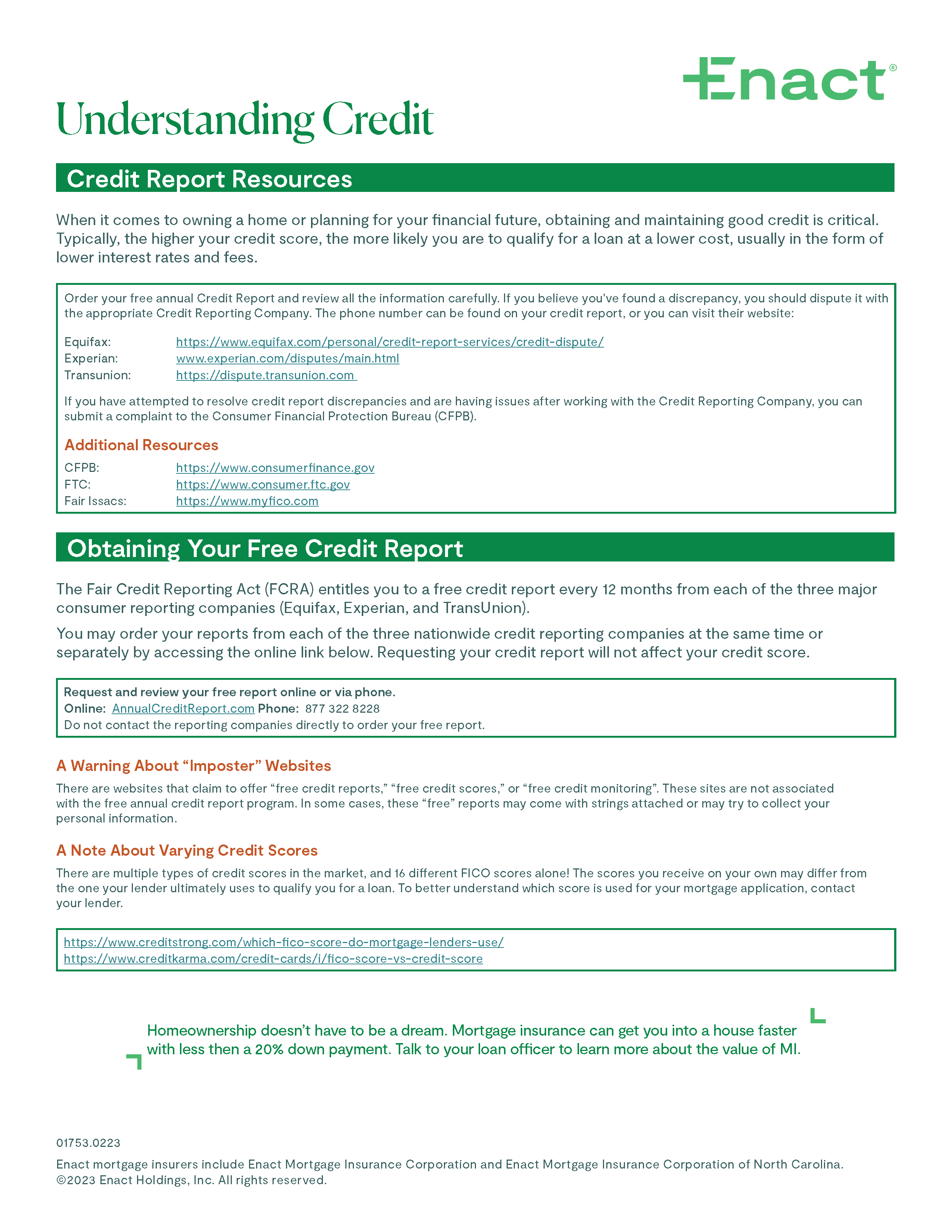 Want to learn more?
You can always refer to our Help for FTHBs Hub for a more resources to help your first-time and other prospective borrowers. Our dedication to helping borrowers achieve the dream of homeownership doesn't stop here — we offer training resources to help you work with your customers to your max potential.
And, if you want to learn more about ways to better aid your FTHBs or need some extra insight, you can always contact your Enact Sales Rep for more info too. They'll be happy to help you meet your business needs, answer questions, and point you in the right direction.
Never miss a post by subscribing to the Enact MI Blog! We'll send you our most up-to-date topics right into your inbox.
https://blog.enactmi.com/wp-content/uploads/2021/06/01389.Blog_.Header.Enact_.05.png
361
707
Enact
https://blog.enactmi.com/wp-content/uploads/2022/05/Enact_logo_Reg_0522.png
Enact
2023-02-14 10:23:23
2023-02-23 12:05:05
Help for FTHBs: Understanding Credit, Credit Scores, and Credit Reports