 The Benefits of MI: Educating your First-Time Homebuyers
[This 5-part series features a deep dive into each of Enact's FTHB Kit topics. We will also go in-depth into other relevant topics on first-time homebuyers like questions to ask a real estate agent, understanding credit, using a house hunting checklist, and more.]
The dream of homeownership, mixed with the realities of low inventory and rising interest rates, might seem out of reach for those seeking a home for the first time. First-time homebuyers (FTHBs) face an increasingly challenging market, but with tools like mortgage insurance, homeownership doesn't have to just be a dream.
When you and your borrowers are discussing financing options, and all of the other factors that go into buying a new home, don't forget to  highlight the benefits of mortgage insurance (MI). Educating your borrowers, at whatever stage of homebuying they're at, is crucial to help you help them succeed. Particularly so for first-time homebuyers – the more information and resources they have at their disposal, the better prepared and confident they'll be.
That's why we're sharing some highlights of MI that a FTHB might not even know about, but certainly should. And, as an added bonus, you will have access to Enact's "The Benefits of Mortgage Insurance" Infographic to be able to distribute to borrowers as you need.
Top Benefits of Mortgage Insurance First-Time Homebuyers Should Know:
Down payment options:
They can buy a home with a lower down payment than they may think with mortgage insurance. By putting as little as 3% down, first-time homebuyers can reserve their savings for what they really need. Whether it's for an emergency or for a house project, mortgage insurance gives borrowers an option to put down what they can afford, giving them more buying power.
Move in Faster:
Borrowers won't have to wait until they've saved enough for a 20% down payment. They can get into a house sooner by putting less down. This is particularly helpful if a FTHB is on a time crunch or needs to relocate. Borrowers can use the money they've already saved to start building equity with the purchase of a home.
Savings Flexibility:
FTHBs may use their savings for an emergency, an upcoming trip, or whatever situation may arise instead of spending all their savings on a down payment. Borrowers get the flexibility to decide where their money should be used and will have more money in the reserves. It's important for homebuyers to understand how to save, and MI allows them to save more effectively and be prepared.
Cancelable:
Let your borrowers know that they may cancel MI when the loan reaches 80% of the original value, so long as they double check with you on the cancellation requirements. Once they understand that the MI will eventually be canceled, they can see how MI is a useful tool to help them become a homeowner in less time and start building assets sooner.
Mortgage Payment Decreases:
Alongside having the option to cancel, you should let your borrowers know that their monthly payments will go down when MI coverage is no longer needed. Canceling MI makes their mortgage payments even more affordable over time. Budgeting is much easier to do when they have less money going out the door.
Lower Payments:
Overall, FTHBs may have lower monthly payments when financing with MI vs. financing with FHA. By having the flexibility to put down as little as 3% or as much as they can, borrowers may see lower mortgage payments by choosing MI.
These are only a few of the many benefits that MI can bring to a first-time homebuyer. Whether or not a borrower ultimately goes with MI when purchasing a home, ensuring that they know it's a viable option will help them more confidently make the right decision for themselves.
Knowledge is power! That's why it's valuable to inform and continue to educate FTHBs throughout their homebuying journey. Proactively considering your borrowers' concerns can give you a competitive advantage in this ever-changing housing market. So, the more you know, the better off they will be.
Download our "Benefits of Mortgage Insurance" Infographic below. It's a great resource to share with your borrowers and will help them remember all the information we've provided above. Now available in Spanish!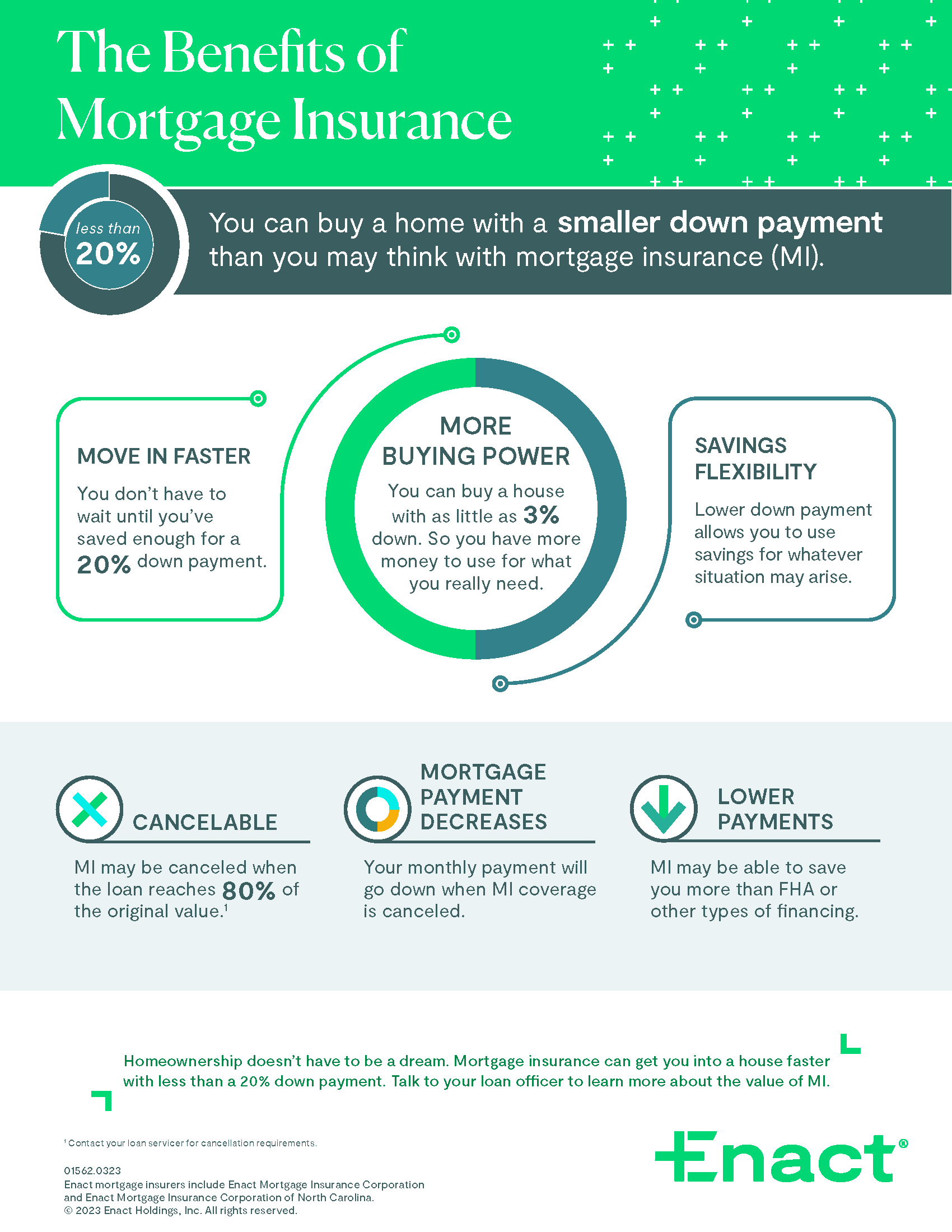 Never miss a post by subscribing to the Enact MI Blog! We'll send you our most up-to-date topics right into your inbox.
https://blog.enactmi.com/wp-content/uploads/2021/06/01389.Blog_.Header.Enact_.02.png
361
707
Enact
https://blog.enactmi.com/wp-content/uploads/2022/05/Enact_logo_Reg_0522.png
Enact
2022-07-20 16:48:08
2023-06-26 15:41:39
The Benefits of MI: Educating your First-Time Homebuyers