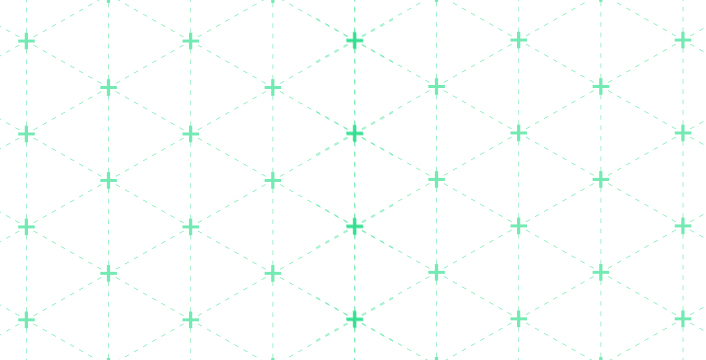 Help for FTHBs: A Guide and Checklist for New Homeowners
[This 4-part series features a deep dive into each of Enact's FTHB topics. We have other topics in a previous series that details the benefits of MI, terms and people your borrowers should know, and affordability and budget worksheets. Be sure to check out the Help for FTHBs Hub for these flier resources!]
Homebuying, as we all know in the industry, comes with many moving pieces, things to remember to do, and the need to stay organized. Your FTHBs, especially, are for the first time getting a sense of everything that comes with buying a home and getting that much closer to their dream. If you've personally bought a house and can recall the feelings and many to-dos you had to remember to complete after you bought that house, then you understand what your FTHBs are going through.
We've got just the guide for you to help your FTHBs get it done! With this clickable checklist, your FTHBs can use this sheet to figure out where they need to get their address changed, what things they'll need to remember to do on move-in day, and tips to help them settle into their new home more efficiently. These are only some of the examples of a larger checklist that can help them with their journey and make the whole process after their close that much smoother.
Download the New Homeowner Checklist Sheet to distribute to your potential FTHBs.
Two Lists to Help FTHBs Ease into Their New Home:
Once your borrowers close on their house, they're not done yet! For starters, they will still have to move, update their new address in various places, and make sure they're prepared to live in their new home. It's easy to forget the details, but that's where you, their LO/lender, are there to help them. So, remind them to not sweat the small stuff after they move in – encourage them to follow the lists we've provided to help them ease into their new home faster.
See below for a sneak peek!
Key Address Updates
Move over/set up utilities for new address (energy, water, gas, internet, cable, etc.)
Update:

Mailing address with USPS (including forwarding address updates)
ID or driver's license
Car registration and insurance
Voter registration for any needed address changes
Address on bank and investment services accounts
Address on credit card accounts
New address for employer

Find doctors and reliable professionals around them or update new address in online medical portals
Transfer subscription services to new address
Register child(ren) to a school within their area
Moving/Post-Moving Essentials
Line up a pet sitter (or other arrangements) for moving day
Organize and unpack moving boxes by rooms
Consider autopay to stay on top of monthly home payments and expenses (HOA fees, property taxes, etc.)
Child-proof and pet-proof the new space
Purchase a security system
Purchase cleaning supplies that fit their new home's needs
Stock up the pantry, fridge, freezer and cabinets
Buy a gift for their realtor or Real Estate Agent
Meet their neighbors!
Invite family and friends over to celebrate
Your relationship with your first-time homebuyers doesn't have to stop after all the paperwork has been signed. Providing resources for them throughout your time working with them goes such a long way. They already have to juggle so many moving pieces throughout the homebuying process, so let's do what we can to help them post-close.
Download our New Homeowner Checklist Sheet below – it's a great resource to share with your borrowers and can help you supplement any of the resources you may already have. Now available in Spanish!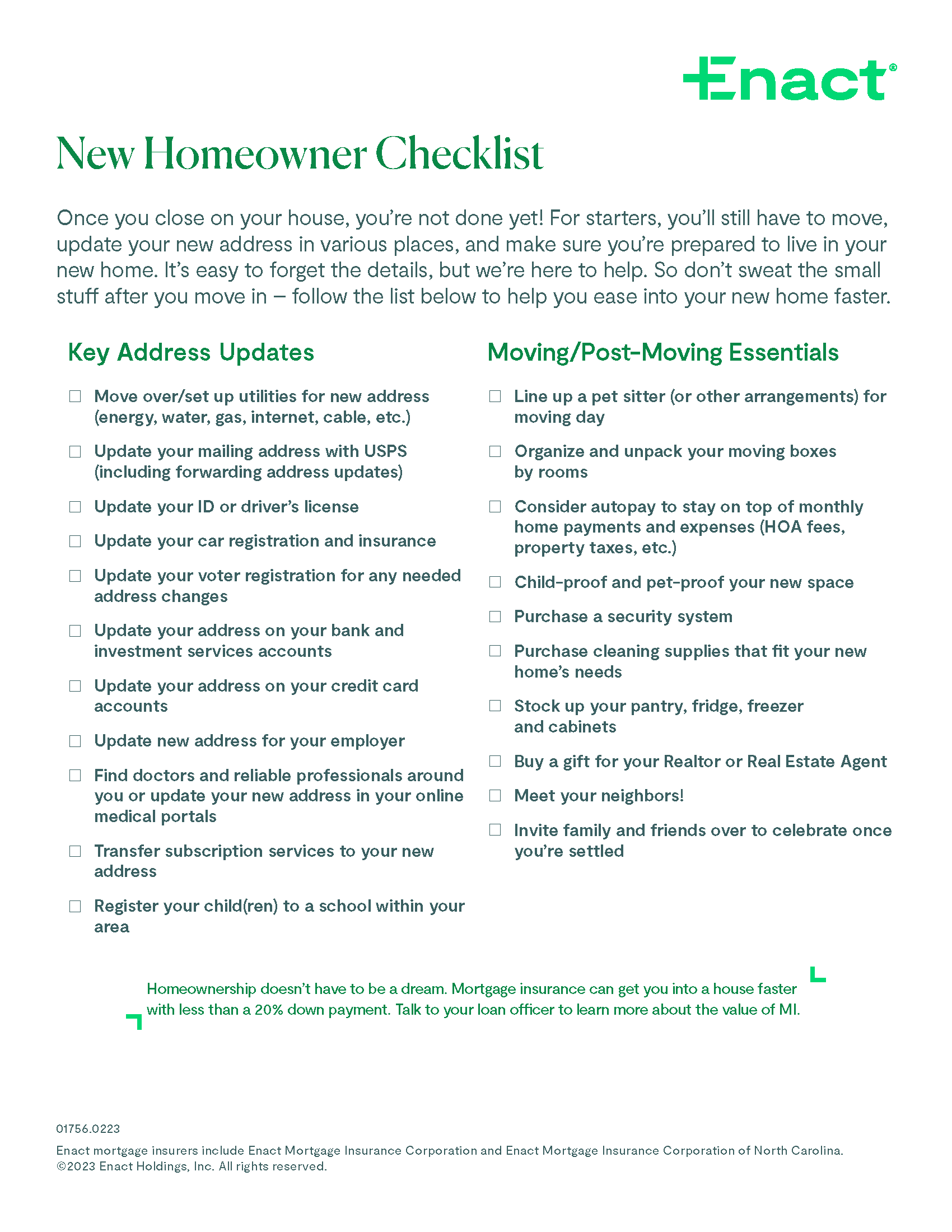 Want to learn more?
You can always refer to our Help for FTHBs Hub for a more resources to help your first-time and other prospective borrowers. Our dedication to helping borrowers achieve the dream of homeownership doesn't stop here — we offer training resources to help you work with your customers to your max potential.
And, if you want to learn more about ways to better aid your FTHBs or need some extra insight, you can always contact your Enact Sales Rep for more info too. They'll be happy to help you meet your business needs, answer questions, and point you in the right direction.
Never miss a post by subscribing to the Enact MI Blog! We'll send you our most up-to-date topics right into your inbox.
https://blog.enactmi.com/wp-content/uploads/2020/07/01382.Blog_.Header.Enact_.V6.0521.jpg
360
706
Enact
https://blog.enactmi.com/wp-content/uploads/2022/05/Enact_logo_Reg_0522.png
Enact
2023-03-09 17:27:43
2023-06-23 16:15:31
Help for FTHBs: A Guide and Checklist for New Homeowners