 Help for FTHBs: Our Useful Home Comparison Checklist
[This 4-part series features a deep dive into each of Enact's FTHB topics. We have other topics in a previous series that details the benefits of MI, terms and people your borrowers should know, and affordability and budget worksheets. Be sure to check out the Help for FTHBs Hub for these flier resources!]
The homebuying journey is an exciting time for a First-Time Homebuyer (FTHB) but may feel overwhelming with the amount of things they'll need consider when they think of their dream home. Your FTHBs probably already have ideas about what their ideal home looks like, what features it should have and the must-haves they'll need in order to feel confident about their selection. However, that's easier said than done. We've got just what they'll need to identify the features that are important to them.
Our latest FTHB Resource is printable, but best used as a digital asset. The Home Comparison Checklist is a tool and calculator to help your borrowers ranks their top 3 property options to see which house best aligns with their preferences. They're even able to create their own field selections or simply use our suggestions we've laid out in the pdf.
Download the Home Comparison Checklist Sheet to distribute to your potential FTHBs.
Features your FTHBs May Consider:
It's natural for each of us to have preferences for what we'd want in a home, so it's important for borrowers, especially First-Time Homebuyers, to understand what to prioritize and focus on during the homebuying process. We've provided some sample features that we think will help a FTHB effectively parse out what's most important to them in a home. All they have to do next is organize and rank the most important to least important features on our flier.
See the lists below for a sneak peek!
Location
Commute to Work
Proximity to School
Access to Public Transportation
Walkability-Sidewalks, Paths, Parks, etc.
Urban, Suburban, Rural
Location in a Homeowners Association (HOA)
Access to Airports, Highways
Convenient to Shopping and Restaurants
Nearness to Family/Friends
Layouts
Minimum Desired Square Footage
Outdoor Living Space
Minimum Desired # of Bedrooms
Minimum Desired # of Bathrooms
Basement [Finished or Unfinished Basement]
Laundry Room
Style of House [Ranch, Colonial, Craftsman, etc.]
Extra Features
Desired Age of Home [New or Existing]
Pool
Garage
Appliances Included
Fireplace [Gas or Wood]
Exterior Material [Brick or Siding]
Lot Size
Fenced Yard
Power Source [Gas or Electric]
Download our Home Comparison Checklist Sheet below – it's a great resource to share with your borrowers and can help you supplement any of the resources you may already have. Now available in Spanish!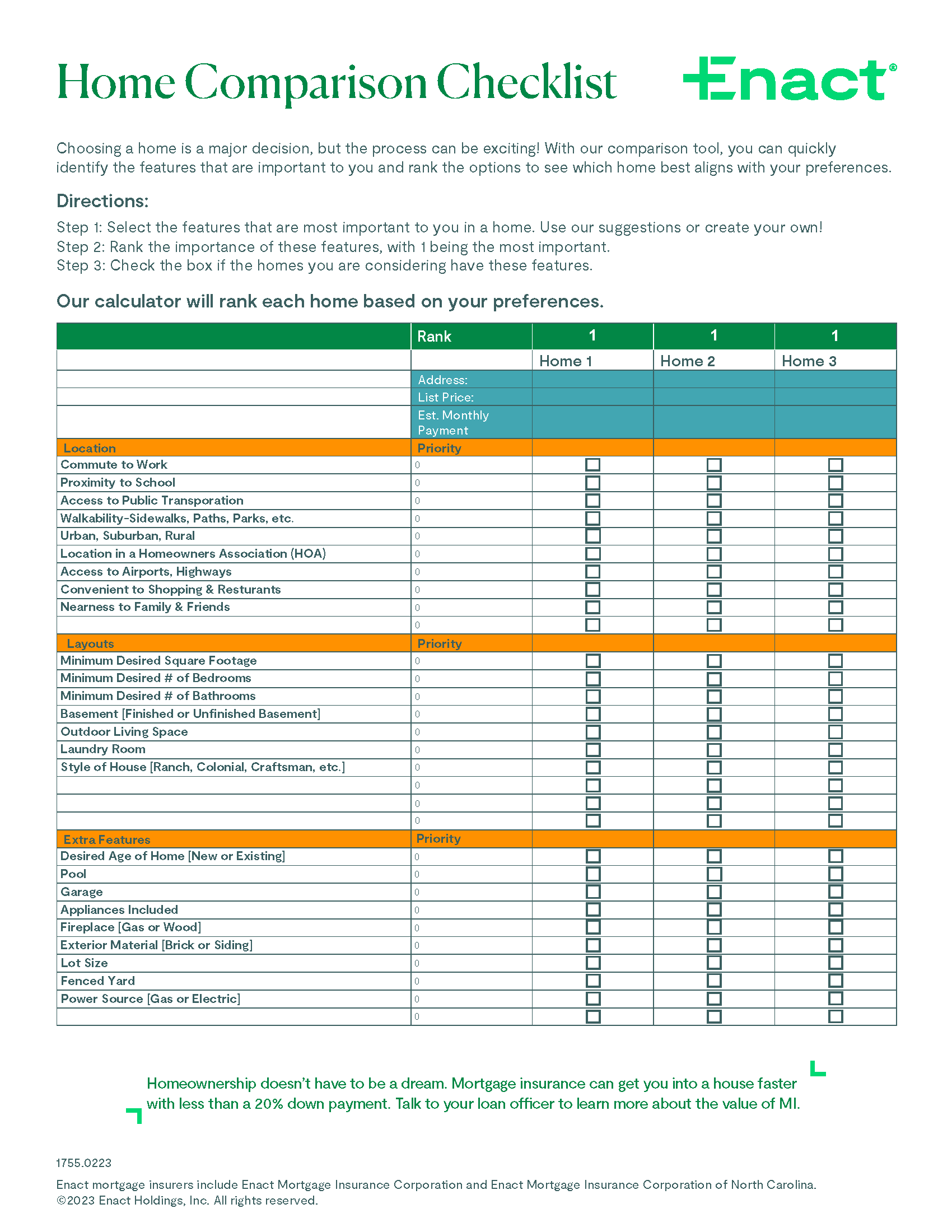 Want to learn more?
You can always refer to our Help for FTHBs Hub for a more resources to help your first-time and other prospective borrowers. Our dedication to helping borrowers achieve the dream of homeownership doesn't stop here — we offer training resources to help you work with your customers to your max potential.
And, if you want to learn more about ways to better aid your FTHBs or need some extra insight, you can always contact your Enact Sales Rep for more info too. They'll be happy to help you meet your business needs, answer questions, and point you in the right direction.
Never miss a post by subscribing to the Enact MI Blog! We'll send you our most up-to-date topics right into your inbox.
https://blog.enactmi.com/wp-content/uploads/2021/06/01389.Blog_.Header.Enact_.07.png
360
706
Enact
https://blog.enactmi.com/wp-content/uploads/2022/05/Enact_logo_Reg_0522.png
Enact
2023-03-03 11:38:39
2023-06-26 15:26:16
Help for FTHBs: Our Useful Home Comparison Checklist