 Explore our Latest LO eBook: Leverage Your Resources and Fill in Your Puzzle
[This 3-part series explores the 6 Steps to Creating a Successful Borrower Pipeline, Enact's latest LO eBook. In today's blog post, we're giving you a list of great resources you can leverage and ways to implement all of the steps we've detailed to help you execute your action plan. Want the full eBook and to get a competitive edge in today's market? Download the eBook today!
To every puzzle, there's a solution. Sometimes the solution is glaring. Sometimes it's not. When interest rates rise and home prices become less affordable, finding quality borrower leads and maintaining a full pipeline of business becomes the puzzle to solve.
When faced with such a predicament, you have two choices. You can continue using tactics that worked in years past. Or you can learn how to solve the challenging market we're facing today…
That's why we want to share with you some steps you can take to replenish your pipeline with motivated buyers and turn the odds in your favor. After all, your skills and product expertise are what homebuyers need. And right now, they'll need it more than ever.
At this stage, we know you can do what we've outlined in our eBook, but now it's time to put everything we've outlined for you to use. Leverage the resources at your disposal and the skills/strategies you've completed to get your puzzle (pipeline) filled in and create an action plan. We're happy to show you how – check out Steps 5 and 6 of our eBook. Then, take a step back and try to reflect on all we've explained. The way forward is now up to you!
Step 5: Leverage Your Resources
You could have the most well-laid plan ready to go, but if you don't use all the resources available to help execute that plan, you'll eventually land back at square one. It's critical to stay on top of what's going on in the housing market, learn how to develop better relationships, and continue to improve your professional skills.
There are many trade publications, newsletters and websites that can help you expand your knowledge of the housing market and mortgage industry trends.
It's equally important to stay on top of changes made at the GSE level, especially if your company sells the bulk of its loans to Fannie Mae or Freddie Mac. You can sign up for email newsletters from Fannie Mae here and Freddie Mac here.
What to Read
We recommend starting with the following resources:
Tip! In a challenging market, understanding the value of mortgage insurance can open up a world of opportunities. To get up to speed on MI, check out Enact's What is MI training course, which walks you through different MI options, how coverage is calculated, and how to estimate costs, so you can better inform your borrowers on what they can expect.
Step 6: Fill in the Puzzle
Once you follow the steps we've outlined in our eBook, you'll want to put the rest of your marketing plan into action. As you do, here are a few remaining tactics to ensure you stay in touch with your leads.
Build Your Online Presence
According to the National Association of Realtors, a whopping 96% of homebuyers used the Internet to research the homebuying process. That's why it's important to continue building on your strengths and market yourself effectively by ensuring your messaging stays relevant. One way to do this is to maintain a web presence and keep it fresh by regularly posting new, valuable content, so borrowers can easily find you.
For instance, consider writing blogs and articles and posting them on your website. These could answer typical questions borrowers have about the mortgage process, such as "How much down payment do I need?" or "What are the benefits of mortgage insurance?"
Tip! After posting a blog on your website, share it on your social media accounts, so you can double your exposure to potential leads.
Maintain Your Network
Once you've formed new networking relationships, you'll want to maintain them by staying in touch. Try meeting up in person for coffee once a month, or at least give them a call to see how they're doing.
Try using a personalized video or photo in your outreach, too. Seeing your face will not only make your efforts feel more personable, but it also makes it easier for people to recognize you when you see them in person.
Tip! Every day, send an email to one person in your network to ask what's going on. That's about 260 connections a year with very little effort.
Thank You Notes
While everyone seems to prefer texting these days, hand-written thank you notes haven't gone out of style. Start getting in the habit of writing them every time you find a new partner, close a loan, or when someone does you a favor. They really work.
A handwritten card for birthdays and holidays—rather than a CRM-generated note—can also catch people's attention. In fact, why not send out a holiday themed specialty dishcloth for example, too? They are both fun and functional and can help you stand out from the crowd.
Tip! Have two to three sample messages ready to go, so all you need to do is fill in the blanks.
While you can't control today's market or what happens to interest rates or home prices, you can control how you respond to it—and you can help borrowers and referral partners do the same.
This is a great time to think strategically, determining what you have to offer, and how to best execute. With the right strategy and tactics in mind, you'll be soon mastering the puzzle that others are trying to solve.
Enact will be with you every step of the way, too. So, you can be the type of expert who helps people solve their own puzzles. Going the extra mile for you is simply who we are. To learn more, contact your Enact Sales Rep today!
Download the full version of our LO eBook today – it's a valuable resource to help you more effectively understand and work with your borrowers. Building your pipeline may not be as challenging as you might think if you choose to implement the steps we've outlined.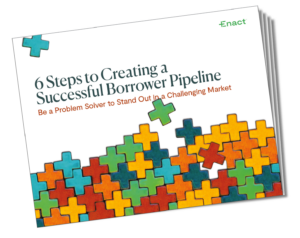 Want to learn more?
You can always access our blog for great content to help your prospective borrowers. Our dedication to helping borrowers achieve the dream of homeownership doesn't stop here — we offer training resources to help you work with your customers to your max potential.
And, if you want to learn more about our LO eBook or need extra insight, you can always contact your Enact Sales Rep for more info too. They'll be happy to help you meet your business needs, answer questions, and point you in the right direction.
Never miss a post by subscribing to the Enact MI Blog! We'll send you our most up-to-date topics right into your inbox.
https://blog.enactmi.com/wp-content/uploads/2021/06/01389.Blog_.Header.Enact_.04.png
361
707
Enact
https://blog.enactmi.com/wp-content/uploads/2022/05/Enact_logo_Reg_0522.png
Enact
2023-05-10 22:43:42
2023-05-11 09:03:36
Explore our Latest LO eBook: Leverage Your Resources and Fill in Your Puzzle