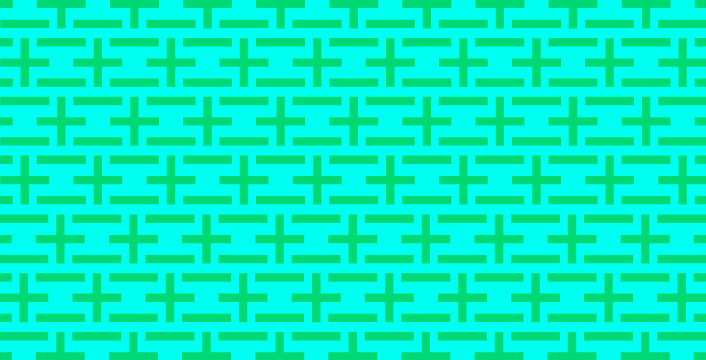 Who's Who in the Mortgage Process: The People FTHBs Need to Know
[This 5-part series features a deep dive into each of Enact's FTHB Kit topics. We will also go in-depth into other topics relevant to first-time homebuyers like questions to ask a real estate agent, understanding credit, using a house hunting checklist, and more.]
The real estate and mortgage industries are closely tied together, but it can be confusing for first-time homebuyers (FTHBs) to know who they will be working with during the homebuying process. When it's time for a FTHB to pursue buying a house and getting a mortgage, they will need to have a basic understanding of to talk to at the various stages of their journey. Otherwise, information could be missed and proper completion of necessary steps might be delayed.
As a loan officer or lender, remember that just because you know who you're working with and who is involved in the homebuying process, your FTHBs may not. Providing continuing education and being the expert in this whole process positions you in a positive light with your borrowers — you're considering their needs and adding value to their homebuying experience. So it's important to provide FTHBs with helpful information that they can reference throughout the time they're looking for and closing on a house. That's why we've created the "Who's Who in the Mortgage Process" document – it's a downloadable reference guide your borrowers can keep in a folder, have in their email for quick access, or do with as they please.
Be sure to download the Who's Who in the Mortgage Process to distribute to your potential FTHBs.
An Overview of Those Involved in the Homebuying/Mortgage Process – What to Tell the FTHB
Use these definitions to help FTHBs as they get to know the people involved in their homebuying process. Because the more they know, the better their buying experience will be.
Appraiser
An individual who is licensed to estimate the worth (fair market value) of the property being purchased.
When a FTHB talks to a lender, they will hear the term appraisal frequently, but understanding the person behind this step of the mortgage process is important. The appraiser compares the home's features with recent sales of similar homes and, using their expertise, determines the value.
Closing/Settlement Agent
The party who conducts the closing meeting. This role may be filled by an attorney, title company, or real estate agent depending upon the state where the property is located.
This agent is one of the last people to see the homebuyer and a crucial point of contact to ensure the closing happens. The closing is the legal portion of homebuying and typically the most exciting part of buying a home for a FTHB. Explaining the loan closing process to your borrowers in advance can go a long way to making the process straightforward.
Loan Processor
An individual who gathers, administers, and processes your loan application before it gets the approval of a loan underwriter. They are essential to getting the mortgage loan request to the final close.
Processors are the backbone of this whole experience, and FTHBs need to know their role in advancing their application through the process. Without this contact, they would not have the prep work required before the underwriting stage to get their loan – the difference between loan processors and loan officers can be confusing, so emphasizing these points will be useful for your borrowers.
Loan Servicer
The entity that collects mortgage payments (it may or may not be the lender) and pays taxes, insurance, and mortgage insurance, if required, on your behalf.
It's important for FTHBs to know that they may be making their mortgage payment to a servicer and this entity may or may not have the same name as the lender. Borrowers may also interact with the servicer in other ways too, like canceling mortgage insurance.
Mortgage Insurer
By compensating the lender for losses should a borrower be unable to make payments, mortgage insurance allows a borrower to get into a home without having to come up with a 20% down payment. Many mortgage insurers, like Enact Mortgage Insurance, can assist borrowers if they become behind in their mortgage payments.
Educating your borrowers on the value of MI can dissuade the assumption that you don't want mortgage insurance. Many FTHBs may believe that they cannot achieve homeownership because they cannot reach the 20% down payment amount and thus delay when they purchase their home, if at all. The mortgage insurer is an effective party member involved to give borrowers the chance at using mortgage insurance to get into a home faster.
Property Inspector
A person certified to conduct an examination of the home. An inspector will look for issues that may affect the value of the property and can assess the condition of a property's roof, foundation, heating and cooling systems, plumbing, electrical work, water and sewage, and some safety issues.
The home inspector will be instrumental to your FTHBs, as they can provide specific context about the house, and particularly the nuances that a first-time homeowner would never considering looking at or be concerned by. With the thoroughness of an inspector, borrowers can get a sense of the potential issues or positive elements of their new house. Having this knowledge can be pivotal in future planning for projects and prioritizing the big cost items that might come down the road.
Real Estate Agent
The individual who acts as an intermediary between sellers and buyers of real estate/real property and attempts to find sellers who wish to sell and buyers who wish to buy. They can often provide helpful and specific community information such as shopping, transportation, and schools.
This person is instrumental in helping the FTHB with buying a home and being their advocate. As they are typically the first contact for a prospective buyer, the real estate agent will be a close ally for both you, the lender, and the FTHB. Working in tandem, these three parties need to work well together and communicate frequently to meet the goals and needs of the buyers. Having a good relationship with the agent keeps the process smooth and efficient.
Underwriter
A worker who evaluates and assesses the risk associated with the mortgage loan application. They may decide whether and under what terms to provide the mortgage.
When a FTHB gets to this stage, they have ultimately provided dozens of documents and are likely wondering why they need to provide even more… You should give them the advice that they will need to keep their files/documents coming in as soon as they have them available to help them help themselves, so no issues come up and delays follow. The mortgage underwriters are very thorough and dedicated, so it's important to explain their significance in this process to get an on-time close.
Now that your borrowers have a sense of who's who in the mortgage process, they can confidently and efficiently handle the various steps required of them. If any issue, question or concern arises, they will know who the appropriate party members are to reach out to for help when they need it. Reference our document anytime and distribute to your borrowers to help them understand who's who.
Download our Who's Who in the Mortgage Process below – it's a great resource to share with your borrowers and can help you supplement any of the resources you may already have. Now available in Spanish!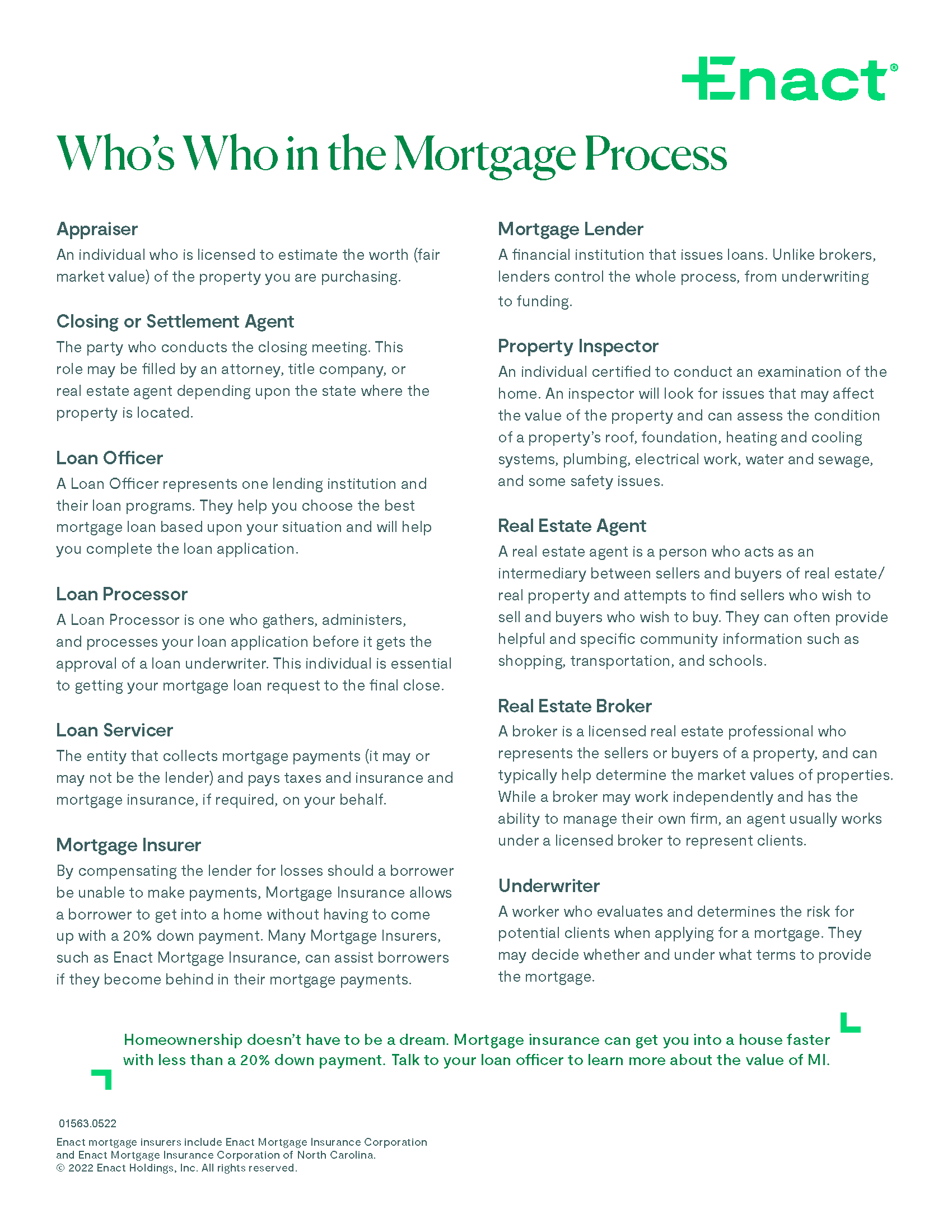 Never miss a post by subscribing to the Enact MI Blog! We'll send you our most up-to-date topics right into your inbox.
https://blog.enactmi.com/wp-content/uploads/2021/06/01389.Blog_.Header.Enact_.08.png
360
706
Enact
https://blog.enactmi.com/wp-content/uploads/2022/05/Enact_logo_Reg_0522.png
Enact
2022-08-11 15:24:27
2023-06-26 15:35:21
Who's Who in the Mortgage Process: The People FTHBs Need to Know