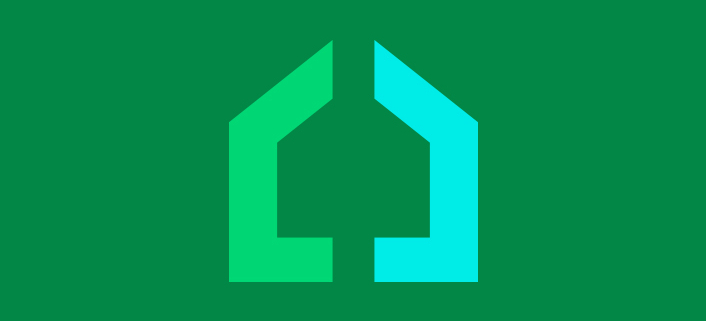 DEI Considerations: Let's Talk Expanded Nontraditional Credit Guidelines
In an effort to enact a more diverse, equitable and inclusive workplace and products + services offering, we've expanded our Nontraditional Credit (NTC) Guidelines to help you put more people in homes.
Becoming a homeowner is a dream come true for many; however, obstacles in a­ffordability, especially for minority consumers, can be rough speed bumps on the road to homeownership. With our Expanded NTC Guidelines, we can help to begin bridging the minority homeownership gap and create accessibility for underserved, yet credit-worthy borrowers.
What Does This Mean?
Enact's Expanded Nontraditional Credit Guidelines allow the opportunity for borrowers without a credit score to obtain private mortgage insurance (PMI). These guidelines only apply when no borrower on the loan has a valid credit score.
This separates us from the GSE's NTC guidelines by allowing up to 97% LTV and 45% DTI, Construction-to-Permanent loans, and Manufactured Housing and 2 – 4 units. However, keep in mind that the Expanded Nontraditional Credit Guidelines are for loans not meeting GSE AUS nontraditional credit loan requirements. Loans receiving an Approve/Ineligible or Accept/Ineligible or loans that are manually underwritten may follow the Expanded Nontraditional Guidelines. Additionally, loans receiving an Approve/Eligible or Accept/Eligible recommendation or risk classification may follow the AUS requirements and Enact's Simply Underwrite Guidelines.
Obstacles Borrowers Face
Overall, hopeful homeowners are experiencing issues getting qualified due to today's rising interest rates and low inventory. Indeed, it can be difficult to afford a house in today's environment. This is especially so for minority borrowers who are facing even more hindrances on their road to homeownership.
We've highlighted three of the most recognized obstacles that contribute to the housing affordability problem for minority borrowers:
Insufficient Credit or Credit History

According to the Consumer Financial Protection Bureau's Data Point, Credit Invisibles Report, 15% of Blacks and Hispanics have no credit score compared to 9% of Whites and Asians.

Student Loan Debt

On average, black college graduates owe $25,000 more in student loan debt than white graduates, as evidenced by the Education Data Initiative's Student Loan Debt by Race Report.

Lack of Down Payment

In 2020, Hispanic homebuyers' median down payment was 3.5%. This statistic comes from the National Association of Hispanic Real Estate Professionals and Hispanic Wealth Project's 2020 State of Hispanic Homeownership Report.
Understanding the real-life impact of affordability issues and how they play out in different borrowers' lives is the first step to getting all your borrowers ready and knowledgeable to begin their homebuying journey.
It isn't enough to lump every borrower into the same category. It's up to us in the industry to get to know these potential homeowners and best meet their needs. This doesn't just help our communities – it also leads to stronger relationships and successes for you and your borrowers.
How our Guidelines Address Borrower Obstacles
You can leverage our Expanded NTC Guidelines for your borrowers by educating them on the added benefits that this expansion allows. That includes the following touch points you'll want to highlight:
Allowing the use of various payment histories to establish credit history.

That means that instead of a credit score, your borrowers may submit rental, utility and other payments as a means of establishing a credit history. You can find a full list in our expanded guidelines for more in-depth information.

Allowing a lower percentage calculation for student loan debt to align with some investors.
Offering LTVs up to 97%, meaning that a 20% down payment isn't required.
Not only do these open doors for your borrowers, but they eliminate having to turn borrowers away whose credit histories previously would not have qualified. And, letting your borrowers know that they do not need a 20% down payment to buy a house can help them better understand that they may be qualified to buy a house faster than they originally thought.
Need to refer to everything we've outlined? You can get the Expanded NTC Guidelines here, or access and download our helpful Expanded Nontraditional Credit Infographic below!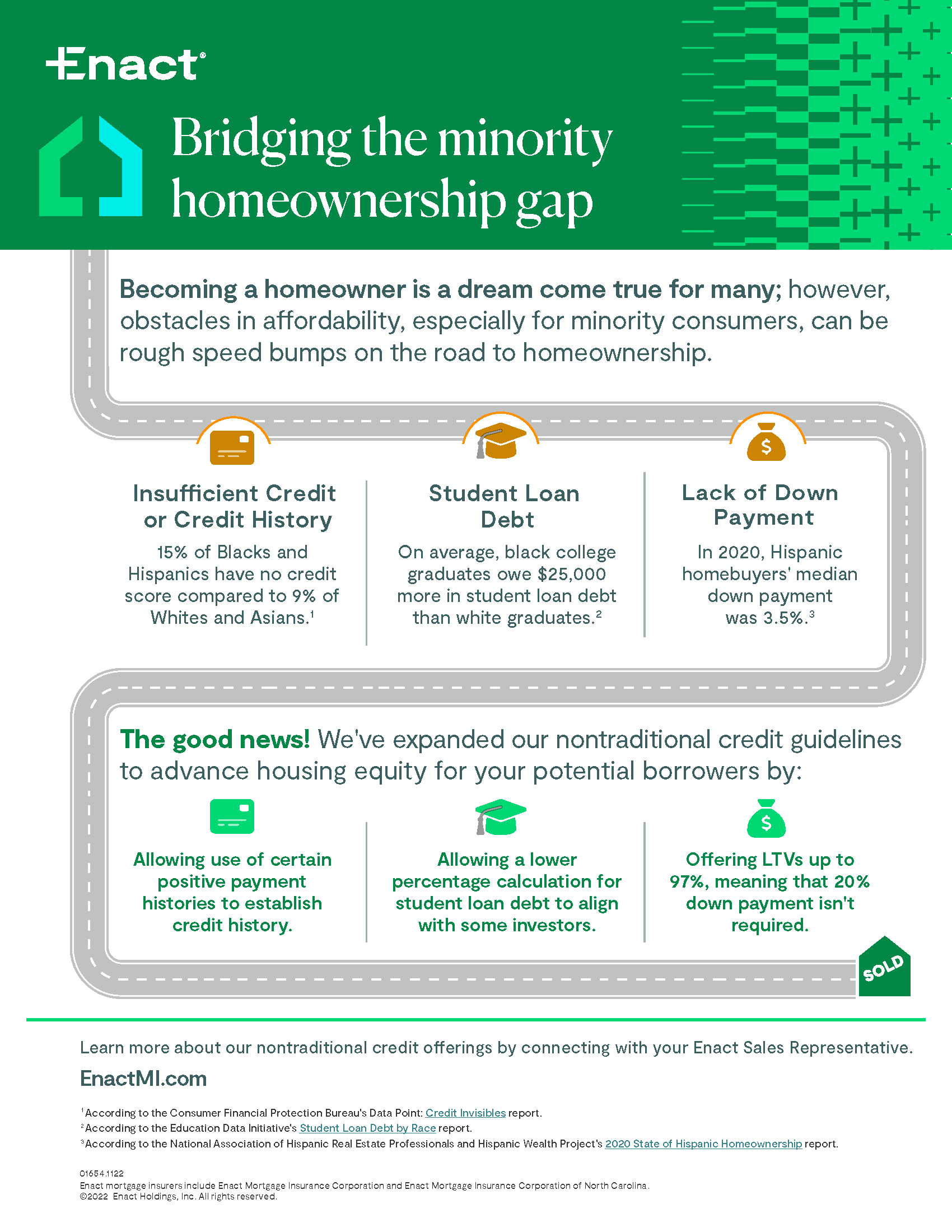 And, if you have more questions about what the Expanded Nontraditional Guidelines are, you can also get some answers on our FAQ page.
Want to Learn More?
In addition to prioritizing diversity and inclusion within our own walls, we go the extra mile within the community to turn the dream of homeownership into reality. Enact was recently recognized with an award for making Diversity, Equity and Inclusion a key priority for us as we work toward bridging the minority homeownership gap. That's why we're making steps to help everyone achieve the dream of homeownership.
And, if you want to learn more about our nontraditional credit offerings or need some extra insight, you can always contact your Enact Sales Rep for more info too. They'll be happy to help you meet your business needs, answer questions, and point you in the right direction.
Never miss a post by subscribing to the Enact MI Blog! We'll send you our most up-to-date topics right into your inbox.
https://blog.enactmi.com/wp-content/uploads/2022/11/01714.Blog_.Header.DEI_.jpg
360
706
Enact
https://blog.enactmi.com/wp-content/uploads/2022/05/Enact_logo_Reg_0522.png
Enact
2022-11-15 15:30:35
2022-11-17 12:03:44
DEI Considerations: Let's Talk Expanded Nontraditional Credit Guidelines